God is in control. We will get through this challenging time period even though we are not together. "We have this hope as an anchor for the soul." Hebrews 6:19.
We can continue to use our volleyball skills as a fun way to lower stress and stay healthy even while at home. We can even improve our skills for the next time we get together to play again.
Here we've gathered many resources to help you.
At Home Drills and Skills Challenges
First, download this skill sheet and print it out to keep track of your volleyball activities.
DIGS Volleyball Home Drill Tracking Sheet
Enter a date on the left each time you work out and then place a number (repetitions) or check in the box under each skill or activity you complete. Each skill has its own goals.
These drills are designed to improve your individual skills. You want to look at your scores and improve them. Don't worry about what other players are doing at this point. Work on strengthening yourself. Your determination and hard work will control how much you improve!
Click on the headings below to view each video explanation. Even though the videos show it, we do NOT recommend you do volleyball drills in your house with anything breakable nearby…TV sets can be damaged greatly when a volleyball hits them. We also do not have many palm trees around…but a light post or outside wall will work
Toss the ball against the wall, and when it rebounds back to you perform a pass against the wall. Perform as many clean passing reps as possible before pausing to rest. Aim for at least 15-20 reps, based on the age level. Time yourself for 1 minute sessions and count how many you can do in a row and record it in the box. Do this 3 times.
Alternate between one passing rep and one setting rep against the wall. To do this, you have to be conscious about the height of the passing and setting reps, so the ball you just passed is high enough to set for the next repetition. Repeat the sequence until the ball gets out of control, or when your arms need rest. Time yourself for 1 minute sessions. Count how many you can do and record it in the box. Do this 3 times.
Perform as many of the following touches as you're able to! The reps get increasingly more advanced, so adapt to the level of your athletes. Use just the right hand fist to pop the ball up and down, staying as controlled as possible. After 30 seconds, switch to the left fist. Then, alternate between the right and left fists. Bump with the right fist, then the left fist, then with your platform, and then perform a set. Catch the ball after every sequence. Perform the same sequence as described in #2, but perform a back set in front of a front set and catch it behind the back with both hands. Time yourself for 30 second sessions. Count how many you can do in a row and record it in the box. Do each of the 4 adaptations 3 times..
Start on the knees. Perform one low pass (about 3-5 feet of air) and then a high pass (7-10 feet of air). Do as many reps as possible, or until you lose control of the ball. Perform the same high-low sequence with setting. This drill is all about location accuracy and focus, because being on your knees restricts the amount of movement allowed! Time yourself for 1 minute sessions. Count how many you can do and record your highest reps in the box. Do this 3 times.
Sit at a 90 degree angle against the wall in a wall-sit. Perform as many setting reps to yourself as you can, while maintaining the wall sit. Once the legs fail, allow yourself to rest for one minute before performing another round. Keep track of how many you can do and record it in the box. Do this 3 times.
Perform the first sequence. If your athletes are able to do that, challenge them to the second sequence!
Sequence #1: Start in a Russian twist position, with just the glutes on the ground. Using just the middle finger and the thumb, flick the ball up two feet in the air. Without resting, reach your left hand underneath the left leg and perform another rep. Perform one more flick in the middle, and then loop the right hand under the right leg and flick again. Perform one more flick in the middle, then hold the ball and perform a sit-up. Repeat at least 10 sequences before resting. Time yourself for 1 minute sessions. Count how many in a row you can do and record in the box. Do this 3 times.
Sequence #2: For this net sequence, use a traditional setting hand position. Start laying back with your feet in a scissor kick position. Perform a small set with your left hand looped behind your left leg, then switch legs and perform a rep with your right hand looped around the right leg. Try to get a good rhythm and only stop when control is lost. Have fun with these! Time yourself for 1 minute sessions. Count how many in a row you can do and record in the box. Do this 3 times.
Use these star footwork drills to simulate shuffling to a pass or dig. Add in optional conditioning for an extra challenge at the end! Start in a low, athletic position as if you're waiting to dig a ball. Shuffle in the following star progression, making sure to come back to your starting position (center) after every two shuffle steps in each direction: Forward, back to center, right, back to center, left, back to center, back into your right, back to center, back into your left, back to center. Do the drill 10 times. Check the box when done.
Use the palm of your hand to perform full-hand contacts with one hand and a ball, keeping the hand and shoulder above your head. Stay low and keep the feet moving. Switch to the opposite hand, and try to get as many contacts as possible before losing control of the ball. This drill can be tough for players who aren't used to overhead contacts, like liberos, but stick with it! Time yourself for 30 second sessions. Count how many in a row you can do and record in the box. Do this 3 times.
No net? No problem! Use a wall or a tree to simulate a net, and practice your blocking touches and conditioning!
Perform one block touch rep to see how high you can get on the wall or tall surface. Have a parent or friend mark the height with tape or a marker. Jump for 10 times and count how many times you did touch. Rest for 1 minute. Do 3 times.
Practicing footwork doesn't always require fancy equipment. Use just about any objects laying around your environment to create a ladder for footwork drills, and get to work! Perform the following drills down your makeshift ladder. Perform at least 3-5 rounds of each exercise. One step between each ladder. Two steps between each ladder. Keep the feet moving quickly! Two steps in, one step out. This should look like a skiing or skating motion. There are tons of ways to get creative with ladder drills. Have fun with it! Requirements: Any object that can simulate a ladder, like sticks or spoons. Perform at least 3-5 rounds of each exercise. Check the box for completion.
12. Legs and Arms (All seven exercises) with Mariah
Do each exercise for one minute.
13. Abs (All five core workouts)
Do each exercise for one minute.
14. Watch a Game Video
Take notes of what you see. Look for answers to the following questions:
a. How many setters on each team? Do they come from the back row to set? or front?
If the team has two setters each setting when there are in the back row. The team is running a 6-2. This means all six players can hit when they are in the front row. If there is only one setter, she sets all the time whether she is in the front or in the back row. The team is running a 5-1. Five players hit and one sets.
b. Who are the good players? What do they do to make you think they are the better players?
c. After the ball is served, do the players change to different positions? Both front and back players?
d. Draw where the players are when the ball is on the other side of the net before the setter has the ball? After the setter sets the ball to the hitter. The teams base position and defense.
e.What kind of sets did the hitters get?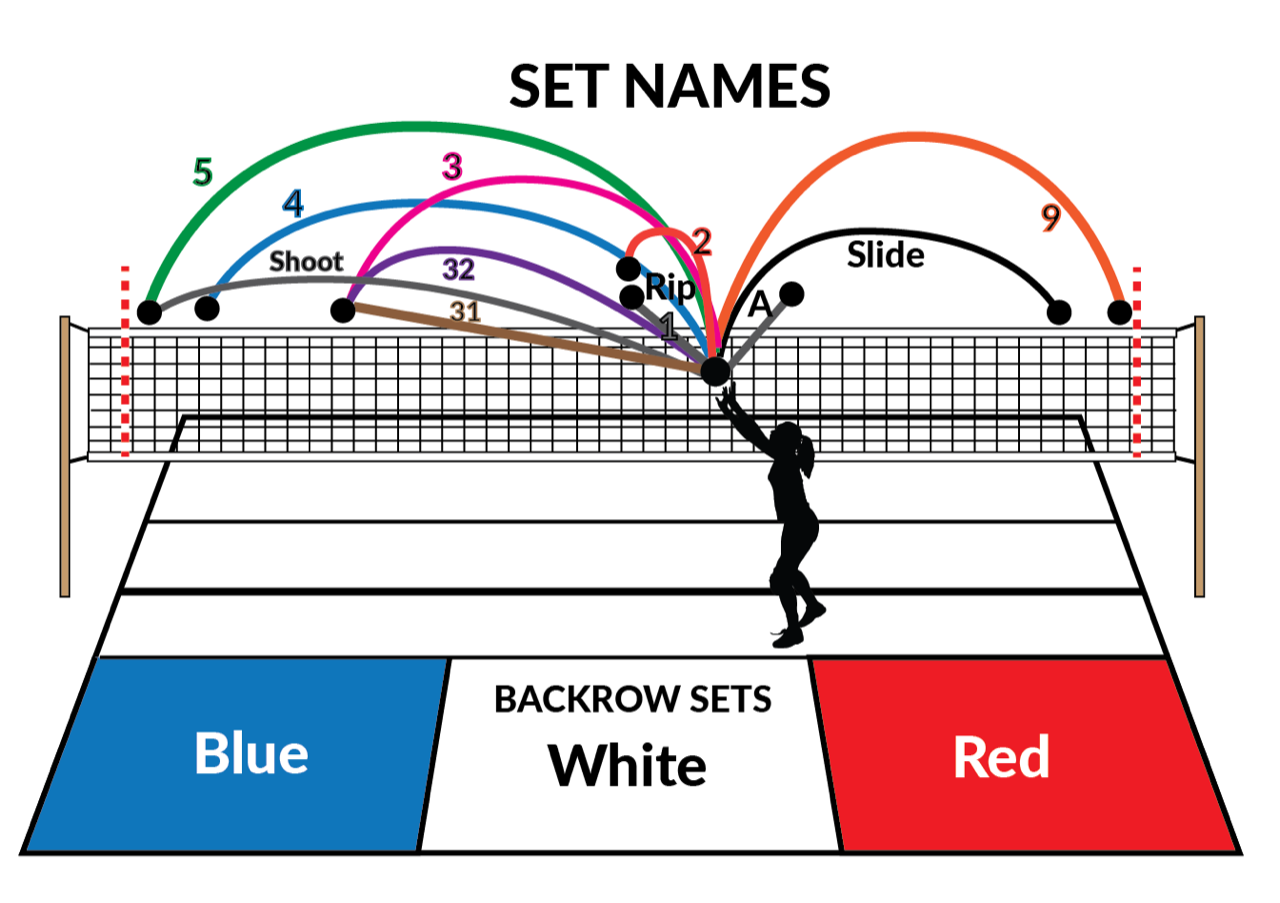 f. For advanced players: What strategies would you give your team to help defend against Champlin's hitters? What other advice would you give to your team if you were the Blaine coach?
15. Read Devotions
Choose one for each session. Share something you want to work on with another player.
A. Energy
When you watch other teams play, have you ever seen a high energy team play against a low energy team? What typically happens? The team that comes together, recovers quickly, and keeps the energy high…wins.
As you head into this day, how are you? How much energy do you have?
Do you feel physically, emotionally, and spiritually strong today? Or did you have a tough week, or a lot of responsibilities this week, or maybe even feel a little under the weather.
At times, all of us can feel like the day is dragging on and on. We can get tired. We can get sick. Everyone knows these feelings of weariness and tiredness. When we are on a team, we bring the best of ourselves and the worst of ourselves. But what we bring also affects the energy of the team.
What can each of us do to help each other? How can we positively impact the energy of the team?
Gratefulness is a large part of it. What are 20 things that you are grateful for that happened this weekend?
Encouragement is also important. How do you encourage others when you notice they aren't okay? What can you do?
We all know Volleyball is a mental game so whatever you do on and off the court will either make or break someone's day. It's really important to encourage your teammates in all situations so that their mental game is back up and running. Where do you get your energy? Encouraging words, Hugs, a "You can Do it" or simple head nod encourages me on the court. It doesn't take a lot. It's vocal, smiles, and body language.
What does the Bible say about encouragement? Read Psalm 121 NLT
Is there anyone here today who doesn't feel encouraged? From a 1-10 ratio. None is a 1 and always a 10.
Dear God, Please give me the ability to encourage my teammates on and off the court this weekend. We will be spending a lot of time together and I want to be a positive influence in my friends lives – on and off the court. Help us Lord to look to you for our help – emotionally, spiritually, and physically. We ask you God to help our teams to work together, and to be a source of positive energy and encouragement for each other. We love you God. We give you all the praise and glory and thank you for the gift of being on this team. Amen.
B. Resilience
Every player has faced a disappointing practice, or a tough loss against a rival team. Even coaches have seasons that go better than others. Have you ever felt like everything that could go wrong did go wrong during a game or season?
When we are faced with a disappointment, it is sometimes easier to think that it's time to quit. Feelings are hard to work through, and getting the right perspective is easier said than done. As a volleyball team and as a person, our ability to bounce back can make all the difference.
That is why we never give up. Though our bodies are dying, our spirits are being renewed every day. For our present troubles are small and won't last very long. Yet they produce for us a glory that vastly outweighs them and will last forever! So we don't look at the troubles we can see now; rather, we fix our gaze on things that cannot be seen. For the things we see now will soon be gone, but the things we cannot see will last forever. – 2 Corinthians 4:16-18 New Living Translation (NLT)
Here are four things we can do as volleyball players to be more resilient on the court and off:
Ask for help. When you're learning new skills, ask for feedback. When you know you're getting picked on by the other team…ask for help.
Expect good things. When we expect for more good things to happen, we can move beyond the temporary in the moment, bad things. It sounds like this: "Last time I was slow to the ball, and it didn't work that way. I need to adjust my approach, then it will work."
Plan for bumps along the way. No one plays a perfect game because there are other people involved. Since this is a team dynamic, you need to understand that you may try something that doesn't work. What this does is teach us to adjust. Coarse correct along the way.
Choose to change the things you can, and let go of the things you are not able to change. Often this change happens inside each of us first. We change our attitudes or perspective, often our behavior will allow things to change over time. The goal as volleyball players and Christ followers, is to try to get to the place in our thinking where we trust that God is at work and do our part to work Him. We can't change how tall we are; but we can work on our verticals.
Prayer: Dear God, some of us may be going through difficult things. Stuff in our lives or maybe in our volleyball game. God, we ask you to help and sustain us so that our heart is renewed each day. Help us to find joy in trusting you. Help us to know that you are for us, in all things, even the difficult things. Help us to depend on you. Help us as we grow in our abilities to be resilient to listen to those around us who care about us. Thank you God for our coaches and our team.
C. I Crave Approval – I've Got Issues
Watch this message "I've got issues – I Crave Approval" by Jason Strand at Eagle Brook Church
Discussion Questions:
Why is it so enticing to gain people's approval? How can wanting their approval become an idol in your life?
It's easy to be caught in the comparison trap. What area(s) do you tend to struggle with the most in terms of comparison? Why do you think that is?
How can you start to give God's Word more weight than other people's opinions? How can knowing and understanding God's Word help you in making wise decisions?
Give an example of how you've been, in the past or currently, a different person around different people. Why is it important to be the same person in public that you are in private?
Read Galatians 1:10. At the end of the day, what matters most is the approval of God. What are 1-2 ways you can start to become less consumed with gaining man's approval and more consumed with God's approval?
D. Overcoming Fear
Have you felt it creep up on you these last few days? Do you find yourself starting to ask a lot of questions when you hear there is new way of doing things? Or feeling worried about how long it will before you see someone that you're close to again. Or what if I can't keep my skills up to be ready for volleyball next fall? What if I or someone I know gets sick?
Fear is one of Satan's favorite weapons. The enemy wants to use situations in your life to create havoc and shake your faith.
But God knows this tactic of the enemy and He wants us to turn to Him. That's why it is stated more than three hundred times in the Bible, He tells His people not to be afraid. "Fear not." "Be ye not afraid." "Do not fear." It's everywhere!
God has not given us a spirit of fear, but of power and of love and of a sound mind. 2 Timothy 1:7 NKJV
Here is a small activity that you can do: Ask your parent if you can use a plain white pillow case. Look up some verses about God's power over fear, and write them in marker on your pillow case.  When you lay your head down to sleep you will be "sleeping on Gods word".
16. Listen to the Mental Toughness video.
Share your thoughts with my another player and/or coach.
Christ's love gives us the strength we need to see ourselves in ways others, sometimes including ourselves, miss. We are amazing, because we have an amazing GOD.
Isaiah 41:10 "Do not fear, for I am with you; do not be afraid, for I am your God; I will strengthen you, I will help you, I will uphold you with my righteous right hand."
Isaiah show how God believes and encourages us. When life is difficult, on or off the court, choose to believe God. Trust the words God has given you. God will always give us the strength to press forward when we trust in Him.
Joshua Medcalf, is a motivational speaker on mental toughness. He works with many teams of all levels. Listen to his this lesson on "Attitude is a Choice".
Write one thing he said in this video that you could implement in your life and know it will make a difference for you. Finally, here is a phrase worth thinking about. "What you think about comes about." – Peter Davison
"True mental toughness is having a great attitude, giving your very very best, treating people really really well, and having unconditional gratitude regardless of your circumstances." – Joshua Medcalf in "Chop Wood, Carry Water"
"I know it it hard to stay positive and thankful when our lives right now are upside down. I am praying for you. I pray you are able to trust God and believe He is always with you despite what is going on around you. I hope this video gives you strength and hope! Miss you all!" – Leah Rudzitis
17. Watch More Game Videos
LCA vs Spectrum
LCA vs PACT
These games were played in the Fall of 2019 and include some of the DIGS players. These videos will help show the improvement many of the older girls have made.
If you are on the video: What specific change have you made to improve a specific skill? What movement on the court have you changed that will improve your game? Looking back, what strategies could you do differently to improve your game?
If you are not on the video: Find a player that plays your position… Name three things the player does that you would like to emulate (be like)? Name one thing you would do differently? Is there anything you learned by watching this player?