Frequently Asked Questions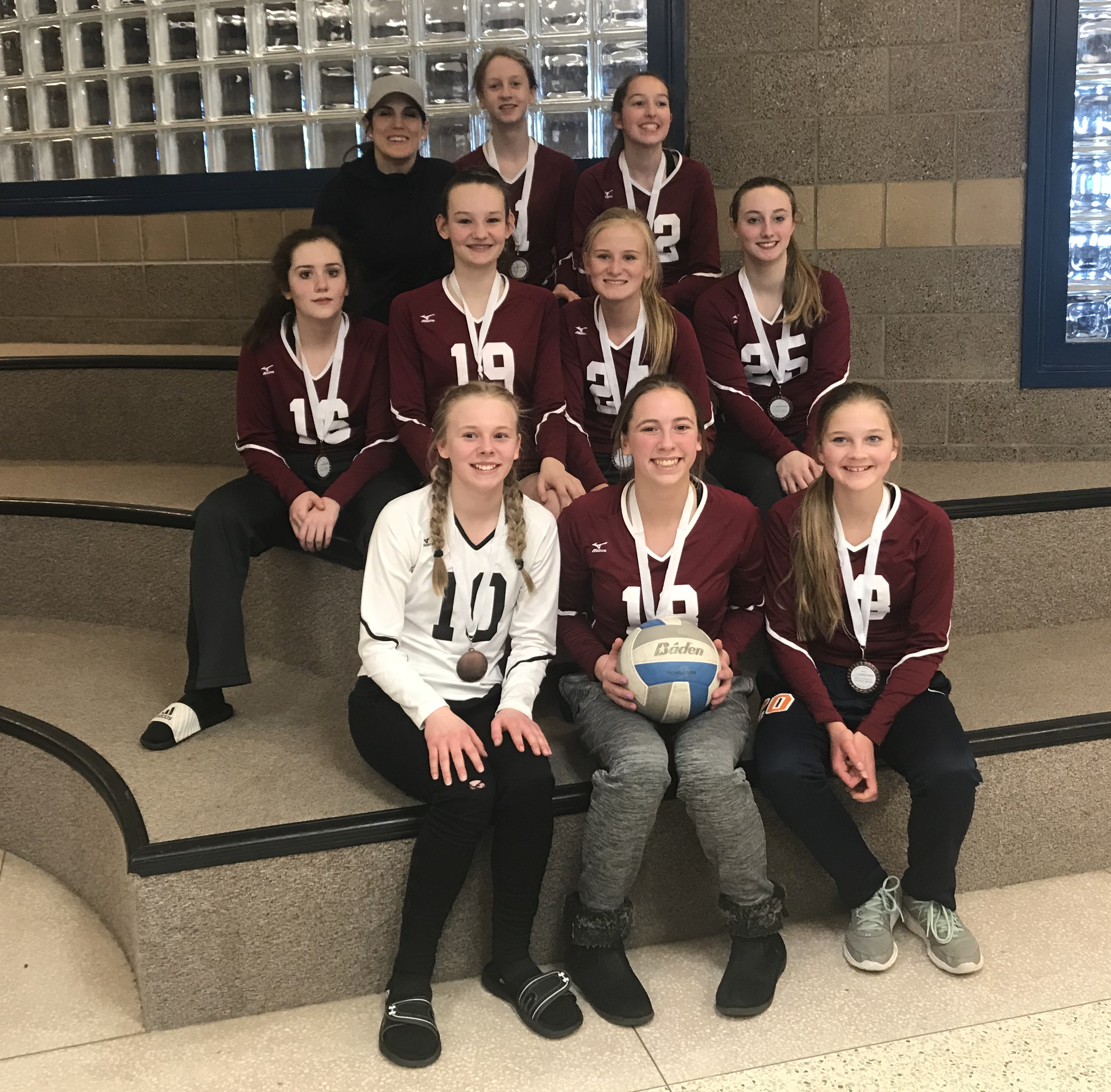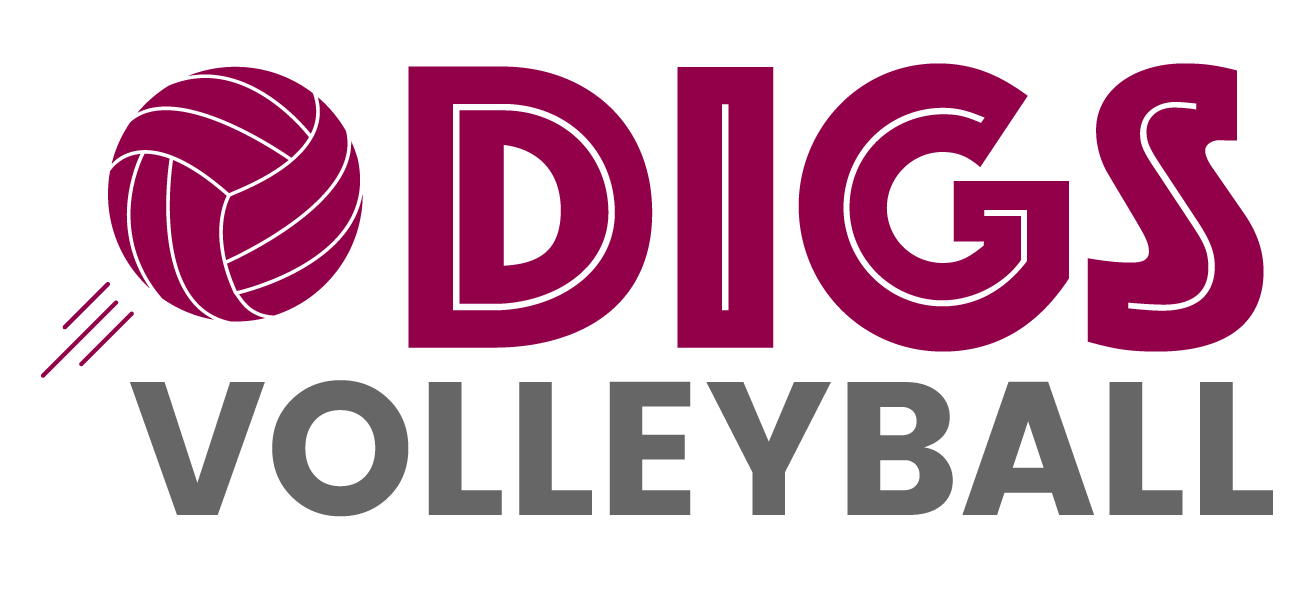 What is club volleyball?
Club volleyball is an extended season of competition beyond the normal school season. Club volleyball is the same concept for middle and high school players outside of their school teams. Club volleyball is not associated with a particular school – although many clubs have a practice location inside a school or are a developmental program within a school district.
Who is DIGS Volleyball Club?
DIGS began as Legacy Club Volleyball with two teams in 2016-17 by Coach Justina Glovatsky and Coach Leah Rudzitis. Legacy Christian Academy provides facilities for our club. The name was changed to DIGS since participation is open to players from public schools, homeschool, charter, as well as the Legacy community. DIGS stands for Dedication, Integrity, Godliness, and Service. Our club is distinctive for developing Christian leadership qualities – both in life and in volleyball.
2018-2019 Coaches are:
| | |
| --- | --- |
| Leah Rudzitis is a teacher at Legacy Christian Academy in Andover with 30 years experience coaching JH/HS volleyball at St. Anthony, Moundsview, and Meadow Creek/Legacy. She assisted coaching five teams to the State Tournament (2000-2002,05,06) and worked on and off coaching JOs and camps for Legacy/Crossfire since 1989. Leah has a BA in Physical Education K-12 from Bethel University. After playing collegiate volleyball and basketball for Bethel University she was all conference for both teams and named to multiple all tournament teams. Leah was named Bethel's top woman athlete in 1987. Leah is married to Rolly Rudzitis, the Band/Choir teacher at Legacy and Worship Pastor at Hope Fellowship in Ramsey. Mom of nine children Justina, Tija, Talis, Janson, Talana, Jezron (18), Taaron (16), Tezra (14), Joren (12). Loves: My Creator, hanging out with my family, gardening, helping kids reach their full potential in all areas of life. Leah will be coaching the 13-1 DIGS team and the 17-1 DIGS team for PACT students. | |
| Krista Bellefeuille is DIGS 17's coach for the 2018-2019 season. This past fall Krista served as the assistant volleyball coach at Carleton College. She previously spent three years coaching volleyball at New Life Academy in Woodbury, Minn. As a student, Krista was a two-time AVCA All-American setter during her collegiate career at the University of Northwestern-St. Paul where she helped lead the Eagles to the NCAA Tournament in each of her four years. Krista's volleyball resume includes being an Academic All-American, an leading active NCAA Division III players with 4,388 career assists prior to her graduation from UNWSP in 2014. She was recognized as UMAC Player of the Year and UMAC Most Valuable Player in 2013. After her final season, she was a Top 9 Finalist for the NCAA Woman of the Year Award. She and her husband Nathan live in Minneapolis, Minn., with their two children. | |
| Justina Gloventsky has been an avid volleyball player in high school and college, and served as an elite level team coach. She currently provides private lessons to students looking to acceleration their skills and performance on the volleyball court. Justina will be doing special skill coaching with the 15-1 team, and also special skills practices. | |
| Kurt Eskuchen has been active as a volleyball coach at St. Stephens and worked with DIGS for the last couple of seasons.  | |
| Mariah Twedt has a lot of volleyball experience and a degree from the University of Northwestern in Kinesiology and Health Science. She was captain of her high school volleyball team for 2 years. | |
| Rolly Rudzitis is the varsity coach at Legacy Christian Academy in Andover and assists with some of the younger players. | |
How are club teams selected?Each club holds organized tryouts, usually around the first part of November, as required by the Minnesota State High School League for players who play during a school season. Middle school players are not held to these same tryout rules. This procedure can be a one day session, or consist of multiple days of tryout sessions.
The 2018-2019 tryout dates are:
For players who are in grades 5- 8 who are not currently on on a high school JV or V squad at any school, tryouts are:
Friday, November 2 at LCA Gym, arrive between 6 – 6:15 pm; starts at 6:30 – 8 pm; Parent meeting at 8-8:30 pm. *Teams are selected. 
For players who have played on a team during the school season with the Minnesota State High School League on a JV or V team, tryouts are:
Friday, November 16 at LCA Gym, arrive between 6 – 6:15 pm; starts at 6:30 – 8 pm; Parent meeting at 8-8:30 pm. *Pre-registration for this tryout is closed. 
How are teams formed?
Since we are a newer club, we are interested in developing players who have a love for volleyball, and a desire to use their God-given athletic abilities on a team that balances character development as well as volleyball skills.
We tentatively plan to have three teams for the 2018-2019 season. Clubs are organized by age level and skills – not by grade like many school settings. We aim for a team to be 8-10 players. The team rosters will be arranged by ability by the coaches.
What levels are the teams competing at?
Emerging/Developmental Team (13 years old and younger) with Head Coach Moriah Tweedt, Head Coach Leah Rudzitis, and Skills Coach Rolly Rudzitis
This is for players new to volleyball, or have played rotation volleyball who are familiar with the basic rules of the game. At this level, overhand serving and passing skills will be emphasized. Positions and rotations will also be learned.
Experienced/Advanced Team (14 years and younger) with Head Coach Kurt Eskuchen, and Skills Coach Justina Gloventsky
This team is selected based upon interest, practice performance, and age criteria set out by official rules. These players may be new to club, or returning club level players. At this level, some skills that emerge are: setting, hitting, blocking, digging, serving.
Elite Teams (17 years and younger) with Coach Krista Bellefeuille and Coach Leah Rudzitis, and Skills Coach Justina Gloventsky
This team requires a tryout where player evaluations are performed by our experienced coaching staff to determine team selection and positions. Typically, these players have game experience in a school setting at the Varsity level or similar club levels.
How are team rosters determined?
Volleyball is a sport played with multiple players forming a team. A successful team must consist of several elements…players with comparable skills and a full roster of position players. Unfortunately, competitive teams cannot be formed based on player friendships.
What are position players?
Like many sports, the players on the floor all have a specific job. Unlike recreation sports, club volleyball, is a higher level of competition and clubs are expected to assemble the best unit of players available. Each roster must consist of a certain number of middle hitters, outside hitters, libero, setters, defensive players, etc. At the club level, most players are position players and they are proficient in their assigned position.
How many players are on a team?
Typically, the best number for a team is between 8 to 12 players. Less than that and you risk not having enough players in the event of an injury or match conflict. Any more and you have too many players standing around or sitting on the bench. Too many players will create stress on a coach with parents asking about playing time. Team morale usually suffers when you have too many players on the roster. This is also unfair to the extra players who could possibly be rostered on another team and see extended playing time.
How are returning players handled?
It is the policy of DIGS that every player apply. Tryouts are also needed each season. This is to prevent any claim of favoritism towards returning players and more importantly to assess the skill level of every player. Volleyball skills can improve or deteriorate during the time in-between club seasons. Additionally, many players may develop faster than others. For example, if two players (teammates) were comparable during the previous season's tryouts, but are now playing at different levels, it may be necessary to evaluate what team will provide the best growth based upon the unique needs of the player. Because of this, when a team is selected, certain players may become the core of a team and the tryout procedure will be the tool to adding players of like ability to the missing positions of that team.
What is the practice commitment?
There are about 2 practices per week that each last 2 to 3 hours in duration, usually between 5-8:30 pm depending upon gym availability. Practices are usually held in the sports center or the lower gym at Legacy Christian Academy in Andover, MN.
How many teams will DIGS have for the 2018-2019 season?
We are opening five teams for the upcoming season, based upon interest at the Legacy Christian Academy location. The final number of teams we open up will depend on the number of available qualified coaches, available facilities and number of players accepting positions on teams. It has always been our policy to offer as many opportunities as possible each season. We are limited to the previously mentioned elements.
What are the investment fees for club volleyball?
$25 Placement Tryout Fee (The $25 tryout fee will be waived if you pre-register by Oct. 31. Otherwise fee due at tryout)
$50 Nonrefundable DIGS Club Registration Fee (due upon team acceptance)
$35 Individual membership fee paid directly online to North Country Region
12s/13s Team:                $65 Gear Fee (due at the first team practice, Saturday, Nov. 10)
14s/15s Team:                $115 Gear Fee (due at the first team practice, Saturday, Nov. 10)
16s/17s Team:                $115 Gear Fee (due at tryouts on Friday, Nov. 16)
Program Cost:  
12s/13s Developmental Teams
Practices begin November 10.
Fee due dates: December 1, $140; January 1: $140; February 1: $140; March 1: $140
Total: $560
*Option: we can add the month of April for additional $140 based upon player interest
——————————————————————
14s/15s Advanced  Teams
Fee due dates: December 1, $160; January 1: $160; February 1: $160; March 1: $160
Total: $640
*Option: we can add the month of April and May for additional $160 per month based upon player interest
——————————————————————
16s/17s Elite Teams
Fee due dates: December 1, $210; January 1: $210; February 1: $210; March 1: $210

Total: $840

*Option: we can add the month of April and May for additional $210 per month based upon player interest
——————————————————————
Typically, younger teams will begin with practices in November, 1-2 times per week to help them learn new rotation, positions, game rules, and work on skills. The upper teams start that last week of November. There will be a Christmas and New Year's break December 21 to January 6. Tournaments will begin in January and go to end of March/April/May depending on the team. We are tentatively planning on minimum of four to eight tournaments for each team, depending upon the length of the season. Spring Break for the club is March 10-16.
What do the fees cover?
Our club provides a high return on your financial investment. Fees include: rental spaces, coaching stipends, tournament registration, equipment, weight training, and a mental toughness curriculum. Players will have approximately 28-36 hours of coaching contact per month, for five months. When players get approximately 150+ hours of playtime, games, and coaching…they are going to improve significantly. We want the tournaments we attend to provide great competition against similar skill level teams. For comparison, many Minnesota clubs charge between $1000 for beginners to $6,000 for high school teams that travel further for tournaments. We aim to make this club very affordable.
Are there any other costs?
Spandex shorts, court shoes, and knee pads are required. Other costs include gas/travel expenses and food on tournament days.
Are there scholarships available?
Last year we were able to offer some partial scholarships. We want everyone that is interested to participate. Don't let money be the main reason you don't tryout.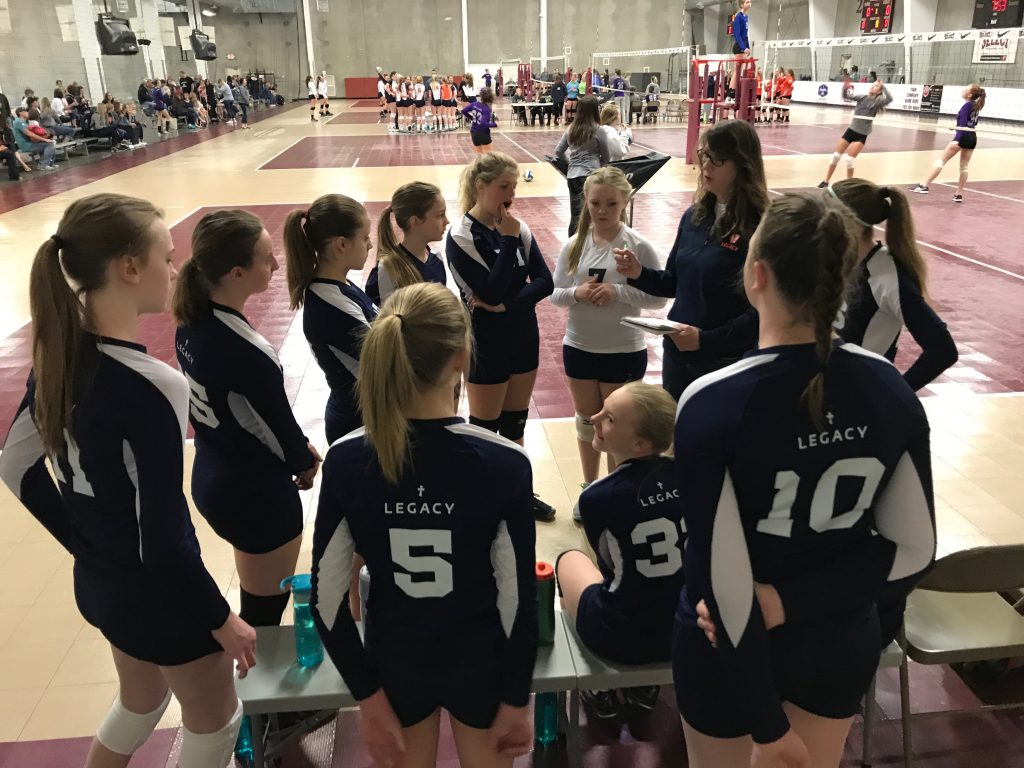 When are Club Fees and Program Fees due?
Club fees are broken into monthly installments. At the parent meeting, it is requested that parents provide posted dated checks for the program fee's so we can have finances set for the season.
Can I still participate in other school activities? Go on vacation? Spring Break?
Yes. If you attend Legacy, you may participate in winter/spring sporting and drama activities. We are only able to practice at Legacy after other athletic activities are done for the day, or while teams are away. We try to schedule our tournaments and practices around the players school calendars, and try to find tournaments that work for our players who are involved. If players can communicate early what schedules conflicts exist, we have some flexibility in the practice and tournaments selected.
What are the tournaments like?
We participate in many local and regional tournaments within approximately a 40 minute drive of Andover, MN. Tournaments are usually held on Saturdays, although if space is an issue, you may play on a Sunday if needed. Time at tournaments varies, but on average players experience 3-5 matches of game-play, and 1-2 referring matches, and 1 match of sitting depending on how many teams are at a tournament. Every player has to go through online training for being a upper referee, score keeper, line judge, etc. to help learn the rules of competition.
What do I bring to a tournament?
Most players bring things to keep them comfortable…blanket, pillow, iPods, homework, cell phone, etc. You are going to be at a tournament for some time and you need to have some down time to rest. Parents should bring a comfortable chair, something to read, food/snacks for the players (so you do not have to run out looking for food) and a positive attitude for you daughter and her teammates.
Where are tournaments held?
We try to keep our tournaments locations within a 60 minute drive from Andover. Last year many tournaments were in Maple Grove with the furthest tournament in Monticello and Foley.
What's next?
Register online by Wednesday, October 31 to show your interest and hold a tryout position.